The world is a sad place today due to the loss of David Robert Jones, publicly known as David Bowie; he lost his battle with cancer on Sunday, January 10, just two days after the release of Blackstar, his 25th studio album. He was a pioneer, musician, artist, innovator, fashion icon, songwriter, and actor among many other things. Bowie's music successfully crossed over many genres when critics were skeptical of change, including that of Glam Rock, Funk, Rock, New Wave, Electronic, and Classic Rock. He reinvented himself with numerous personas such as Ziggy Stardust, a product of his Glam Rock years, and the Thin White Duke which personified his soul and funk era.
In addition to his musical talents, he acted in film and television; his appearances include everything from Labyrinth, as Jareth, the Goblin King to Basquiat as Andy Warhol, to himself in Zoolander and Extras. Most recently, he co-wrote an Off-Broadway musical, Lazarus, based on the book and film The Man Who Fell to Earth. Bowie played the lead character in the film.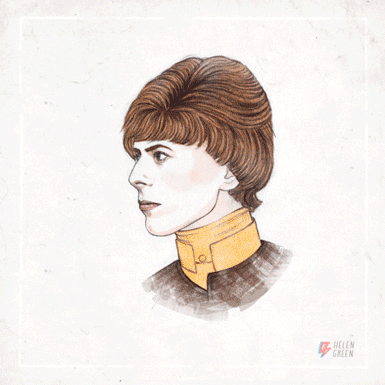 He's been an inspiration to many bands…everyone from Depeche Mode to Nine Inch Nails to Madonna to The Killers. His ever-changing iconic looks have inspired fashion designers from Jean Paul Gaultier to Alexander McQueen to Balmain.
In 2002, I had the pleasure of seeing the Thin White Duke at the Beacon Theater in New York. I had never seen him live before, and I had just bought his album, Heathen. While his career started 20 years before MTV, I was immediately entranced by this somewhat androgynous bloke while watching videos such as "China Girl" and "Let's Dance." From that moment, I asked my parents to buy me a David Bowie record, and it played on repeat in my household.
This is just a short snippet of Bowie's 50-year expansive career. The universe's heart is heavy with a loss of a man who encompassed and successfully conquered music, fashion, art, film, and the visionary microcosm he created for so many. I can't think of anyone who said that they didn't like David Bowie. He will be missed dearly. RIP Thin White Duke.
---
Contributor: Based in Washington, D.C., Sangeeta Rao has been working in Marketing & Events for the past 15 years with an interest in food and wine. Career highlights include working in marketing/PR at the Food Network, and in event management at the Mandarin Oriental hotel. Currently, she is a wine sales associate for Five Grapes, LLC, a wholesaler, and sells organic boutique wines, older vintage world wine, and a patented wine keg dispensing system to many restaurants in the D.C. area. Besides wine being her passion, she is a music lover and a travel addict.
Twitter: therealsangeeta
Instagram@therealsangeeta